Difference between revisions of "Identity Ecosystem"
From MgmtWiki
Line 8:
Line 8:
 

==Problems==

 

==Problems==

 

==Solutions==

 

==Solutions==

 
+
 
+
 
+
 

[[File:Id Ecosystem.png]]

 

[[File:Id Ecosystem.png]]

 
 
---
Revision as of 18:33, 25 February 2022
Full Title or Meme
The Identity Ecosystem needs to be a user-centric online environment – a set of Technology Infrastructures, policies and agreed upon standards that securely supports transactions ranging from anonymous to fully-authenticated and from low to high value.
Context
The National Strategy for Trusted Identities in Cyberspace (NSTIC) describes a vision of the future – an Identity Ecosystem – where individuals, businesses and other organizations enjoy greater trust and security as they conduct sensitive transactions online.
Problems
Solutions
The following image puts the Identity Technology or Identity Infrastructure in conext of the various components that will likely exist.
The Relying Party is shown here as two components: the Policy Definition Point and the Policy Execution Point.
The policy is what tell the verifier in the RP what to accept. It is designed to be highly reactive to changes in policy that are to be expected as technologies evolve.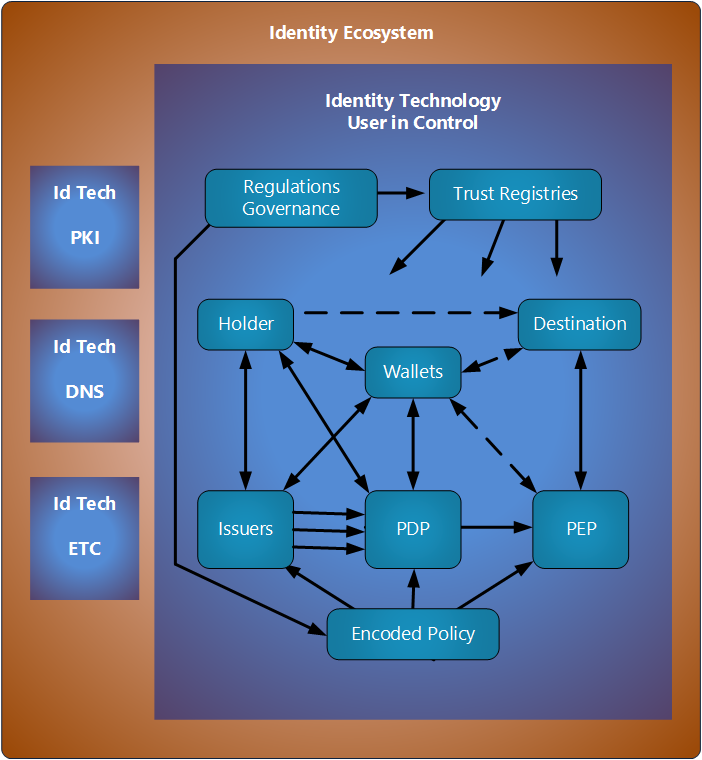 References
See the wiki page on Evolution for ways to encourage or discourage the continued growth of the Identity Ecosystem.